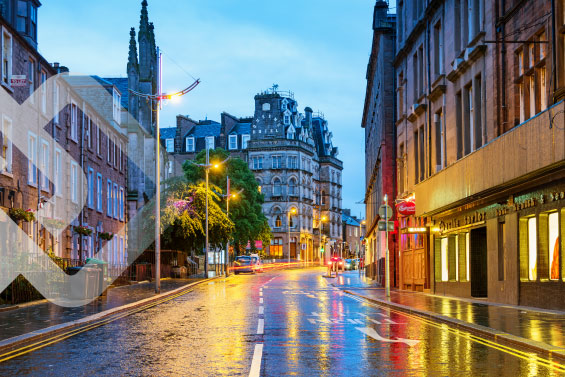 It's natural that, at some point in our lives, we'll all find ourselves walking alone at night. For some, such as those working night shifts or unsociable hours, this is quite a regular thing. However, for the majority of people, it's much less common and can present a daunting or unsettling prospect.
Either way, walking at night can be a nerve-wracking experience, especially if you're unfamiliar with the area. As one of the UK's leading providers of security and close protection services, we fully understand the trepidation and unease you might feel when you're walking at night-time.
That's why we've compiled 10 practical tips to help you stay safe and secure, and provide ultimate peace of mind when you're walking at night.
10 Crucial Safety Tips For Walking At Night
#1 – Plan Out Your Route In Advance
While it can be tempting to go with the flow on a night-time walk or run and see where the mood takes you, we'd strongly recommend planning out your route in advance.
Not only is this practical advice from a fitness perspective (as it means you can better prepare for any inclines or rough terrain), it's also a great way to ensure you can stay as safe as possible. You'll be able to plot out paths that are more common with other walkers or runners, and follow routes that others have already done safely, or that encompass more built-up areas.
Deciding on your walking route beforehand also means you can steer clear of areas that are more secluded, or that aren't as likely to have others around. This not only better ensures your safety, but it also means you'll never be too far from somewhere that's open and that has an effective security presence in place.
#2 – Stick To Well Lit Areas
While this might go without saying, keeping to areas that are well illuminated is a vital consideration when it comes to walking safely at night-time. Streetlighting, houses with their lights on, and 24-hour businesses all offer good, well-lit markers along your route.
The reverse is true, too. We'd strongly advise avoiding any areas that have poor lighting or visibility, such as alleyways or streets that lack proper streetlamps, as these can bring with them a much greater inherent risk of being a victim of crime.
Well lit areas are also more likely to have more provisions for security, such as better visibility for CCTV cameras or stronger infrastructure for security guards and personnel.
#3 – Keep Your Keys Ready
Whether you're walking back to your car or heading back home, keeping your keys ready and in the proper position means you're able to quickly and effectively get to safety without fumbling or distraction.
It's a simple yet effective way to ensure you're not spending longer than necessary outside at night, and can offer an additional layer of reassurance and comfort when out walking at night.
#4 – Carry Or Wear Appropriate Footwear
Whether you're walking at night for exercise, or you're coming home after a night out, what you wear on your feet can have a huge bearing on your overall personal security.
Trainers or running shoes are the ideal choice, but if you're spending an evening out on the dancefloor or at a fancy restaurant, they're not exactly everyone's first thought. We'd recommend having a pair of lightweight pumps stashed in your bag before you go out, just to ensure your safety as you come home.
#5 – Phone A Friend Or Family Member
This is a common tactic, but it's one that can really provide that additional layer of protection and personal security. Phoning a trusted friend or family member while you're out walking at night can help you stay calm, and let people know you're safe in real time.
Even if it's very late at night, or into the early hours of the morning, a phone call can still reassure those who are at home waiting for you, and provide peace of mind for both you and the person you're talking to.
If there's no one you can call, mental health helplines like the Samaritans are manned 24/7, and their operators are always happy to talk. It's also important to stay on the phone until you get home, and if you're uncomfortable, talk through your journey with whoever you're speaking to.
#6 – Avoid Wearing Headphones
While listening to music often goes hand-in-hand with a calming walk, we'd strongly recommend skipping the headphones if you're walking at night.
Most modern headphones come with some form of noise cancellation or filtering, which is the last thing you need when you're trying to be alert. You need to be aware of traffic and those around you, particularly if there's any unusual or startling sounds.
Expensive headphones can also present another target for opportunistic criminals, especially if they're clearly on display.
#7 – Leave Unnecessary Valuables At Home
Many of us carry valuable technology around with us every day and don't think twice about it. However, if you're planning to go for a walk at night, it's best to leave your valuables at home, with the exception of your phone.
Gadgets like laptops or tablets paint a clear target for thieves, and while you might keep them in a case or bag, they're still a clear area of interest for criminals. They can also be bulky and, if you do find yourself in any danger,  they're only likely to weigh you down or offer an unwanted distraction.
#8 – Wear Reflective Clothing
Of course, if you're dressed up smartly for an evening out, reflective or luminous clothing won't necessarily be the first thing on your mind. However, if you're planning to go for a walk in the evening, or walk home following your night out, reflective clothing is a must.
Not only does this make you much more visible to passing motorists in the event of danger or concern, it can also save your life if you're walking along a quieter stretch of road where cars might not necessarily see you without it.
#9 – Always Consider Getting A Taxi
If you've had a night in town, and you're perhaps a little worse for wear, it's always a good idea to consider getting a taxi. Regardless of how much this might cost, it's never a good idea to walk home if you're tired, drunk or otherwise distracted.
Your safety and personal security is absolutely paramount, and while a cab ride home can be an expensive affair, it's ultimately a price worth paying for the peace of mind it provides.
#10 – Head To A Safe Place If You're Concerned
Even at night, there are plenty of places that you can use as a refuge or safe space if you feel as though you're in danger or at risk. Pubs, bars and clubs will all have security guards positioned outside who are specially trained in maintaining safety and mitigating threat and conflict.
Not only do expert security guards offer an invaluable service in organising and managing conflict, they're also a strong deterrent to anyone who may have criminal intentions. You could also seek shelter in a 24 hour shop or supermarket, or if you're in a town or city centre, the local police station is an ideal area to find safety. Even takeaway restaurants can offer a safe space if you're concerned.
However, if you've got a strong suspicion that someone is following you, or you believe you're in danger, there's no substitute for telephoning the police directly.
Secure Ultimate Peace Of Mind With Churchill Support Services
While we've compiled a comprehensive list of tips and suggestions for your next night-time walk, there are additional steps you can take to ensure you've got complete reassurance of your safety and security.
Our tailormade close protection services offer expertly trained, fully vetted bodyguards for people from all walks of life. We're one of very few security providers across the UK to be able to provide such a bespoke service, and it's one we pride ourselves on.
If you're someone who regularly enjoys a night-time stroll, or it's a habit you're looking to form but are concerned for your welfare, we're able to offer close protection 24 hours a day, 7 days a week, 365 days a year.
Our bodyguarding services don't stop there, either. We're privileged to be able to offer VIP protection packages that include residential security coverage, ensuring that you're not only offered full protection when you're out but when you're home, too.
With our status as one of the top 1% of all security providers across the UK, coupled with our extensive and illustrious 27 year history in the industry, we're able to provide solutions that suit your individual needs.
Enquire today, and one of our knowledgeable team will work alongside you to develop a tailored solution that encompasses everything you need from a close protection service.