At Churchill Support Services, we believe that understanding crime rates and rankings is crucial in deciding on where to set up your business, or where to lay down roots and start a family.
As one of the leading security companies in Scotland, we're always in the know when it comes to crime statistics so that, if your business is based in one of the more dangerous areas, we can help you deploy counteractive measures to ensure the safety and security of your people and property.
We've previously explored the most dangerous areas of other areas of the UK, including in-depth examinations of the crime rate in Boroughs of London, Manchester, and across the whole of England and Wales.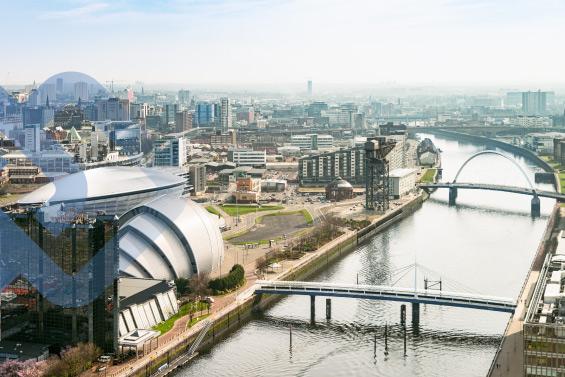 What Is The Overall Crime Rate In Scotland?
Over the last 20 years, the crime rate across Scotland has been in a steady decline, largely down to improving security and safety infrastructure for businesses and residents alike.
At a glance, crime rates in Scotland peaked in 2004/2005, with 511,834 crimes reported over the course of the year. Since then, we've seen a steady decline year-on-year, with crime stats for 2021/2022 sitting at just over 55% of the 04/05 total, at 286,464 reported crimes.
This lower figure equates to 524 crimes per 10,000 people, compared to 1,007 crimes per 10,000 people in 2004/2005.
How Does Churchill Calculate Its Top 10?
In the interests of providing a comprehensive overview, we're using the latest stats available on the Scottish Government Statistics website, covering July 2021 through to June 2022.
By "the most dangerous areas", we'll be ranking the local authorities that have the highest crime rate per 10,000 people living in the area. This helps us provide perspective on the area as a whole, as well as provide an unbiased assessment with population and area size considered.
#10 – East Ayrshire – 836 crimes per 10,000 people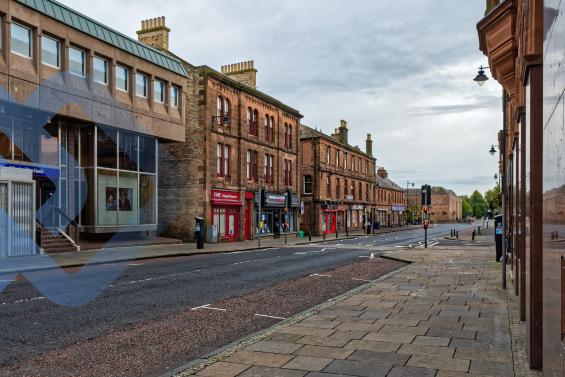 Following on from our 10th spot is East Ayrshire, which closely borders our previous entry. Home to the sprawling town of Kilmarnock, as well as a rich, storied history told through its many castles and stately homes. It's also a popular destination for ramblers, with many popular walking routes taking in the scenic Loch Doon.
While East Ayrshire occupies the lowest spot on our list, there's still some inherent danger, with 836 crimes taking place for every 10,000 people in East Ayrshire, although there's low stats in many of the key areas of Scotland security concern, like violent crimes and robbery.
However, one key point to keep in mind is that East Ayrshire has one of the highest statistics for theft outside of the 5 most dangerous areas of Scotland, with 166 incidents per 10,000 people.
#9 – Perth & Kinross – 853 crimes per 10,000 people
Bisected by the Highland Boundary Fault, the historic Perth & Kinross area represents one of the most visually stunning regions of Scotland. It plays host to the Trossachs National Park, as well as four different lochs, and the far reaches of the majestic Grampian Mountains.
The city of Perth occupies a significant part of the county, and plays a key role in the crime rate for this region, with the statistics indicating a rate of 853 crimes per 10,000 people living in the region.
However, while Perth & Kinross occupy the eighth spot on our list, it's unfortunately the second highest region in road traffic offences, representing a safety issue on the roads.
#8 – Clackmannanshire – 860 crimes per 10,000 people
One of the smallest counties across the whole of Scotland, Clackmannanshire (often just referred to as "Clacks") is north of the historic city of Falkirk, and rests upon the banks of the River Forth. As a huge centre for agriculture and brewing, it's no surprise that Clacks is one of the quieter but no less dangerous areas of Scotland.
With a crime rate of 542 per 10,000 people, Clackmannanshire occupies the number 8 slot on our list, with lower figures across many of the more serious crimes, such as drug-related offences, sexual assault, and violent attacks.
However, there are a couple of notable outlying statistics, with Clacks ranking first for racially aggravated conduct (6 instances), as well as in the top 3 for weapon possession (10 incidents).
#7 – City of Edinburgh – 863 crimes per 10,000
Scotland's historic capital, and one of the UK's largest metropolitan areas, the city of Edinburgh represents both a huge cultural and industrial landmark. From the winding cobbled streets that weave around the magnificent castle, to the roaring trade and nightlife of Princes Street, it's a vibrant area of the country.
Its crime rate is, in some respects, a surprise. Many might expect such a large city to have one of the higher crime rates, but effective policing and Scottish security resources mean that it occupies the seventh spot on our list, with 863 crimes taking place per 10,000 people.
However, despite statistics across the board being relatively good, it's crucial to note that the city ranks 2nd for "crimes of dishonesty", which includes fraud, theft, and breaking & entering, meaning finding a good Scottish security company is essential in the capital.
#6 – North Lanarkshire – 891 crimes per 10,000 people
Often grouped together with its southern counterpart, North Lanarkshire has two major Scottish hubs in Airdrie and Motherwell, as well as some of the richest industrial history Scotland has to offer, with roots in steel and iron production. Occupying a spot in the luscious Central Valley, North Lanarkshire plays host to two of the major Scottish country parks – Drumpellier and Strathclyde.
These industrious origins, coupled with an array of green spaces, translate to a hard-working, secure region of Scotland, which contributes to its overall lower crime rate of 547 crimes per 10,000 residents in the region, including the lowest rate of violent and aggravated crime across our list.
However, North Lanarkshire does have a higher rate of offences involving threatening behaviour, with 112 incidents per 10,000 people.
#5 – Aberdeen City – 1,054 crimes per 10,000 people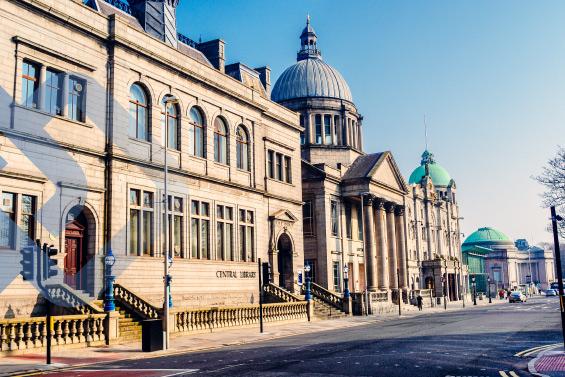 Located on one of the easternmost points of mainland Scotland, and as the UK's northernmost city, Aberdeen is an area with a rich and diverse history. Originally a quarrying city thanks to its huge veins of grey granite, Aberdeen soon benefitted from the oil boom of the late 60s, quickly becoming well-known for its offshore oil industry.
It's now one of the cities leading the charge with reinvigorating the UK's economy, but with that responsibility comes additional scrutiny, and especially so on crime statistics. Aberdeen ranks 5th in that aspect, with 1,054 crimes per 10,000 residents.
While it occupies the middle spot on our list, it does unfortunately have a higher rate of domestic abuse crime than any other area in Scotland, as well as incidents of fraud.
#4 – West Dunbartonshire – 1,058 crimes per 10,000 people
At number 4 on our list is West Dunbartonshire. Within commuting distance of Glasgow, and a key area for families and Scottish businesses alike, it represents a more urbanised hub than other entries on our list. It's still interspersed with those signature Scottish areas of natural beauty such as Loch Lomond, Inchmurrin, and the Trossachs National Park.
It's this urban sprawl that means West Dunbartonshire is significantly higher than other areas of the country, with 1,058 recorded crimes per 10,000 people. While some key areas fall below the top 3 of this list, with the county ranking 8th for violent crime, there are notable exceptions.
The chief among these is West Dunbartonshire's significant proportion of weapon possession, with the county ranking joint first on that statistic, and topping the charts on public order offences, too.
#3 – Dumfries & Galloway – 1,220 crimes per 10,000 people
The Dumfries and Galloway area is one of the largest on our list, and one that offers a concentrated view of the entirety of Scotland. With rolling hills that give way to chocolate box towns and villages, as well as flowing rivers and estuaries that flank key thoroughfares into the major towns and cities, this is what many picture when they think of Scotland.
However, what's not often considered is the crime rate of an area like this, and it ranks 3rd on our list, with 1,220 crimes per 10,000 people living in the area.
Dumfries and Galloway has high statistics across all areas, including violent crime and drug offences, but what really stands out is the proportion of road traffic offences, where the district ranks much higher than any other at 462 offences per 10,000 residents.
#2 – Glasgow City – 1,228 crimes per 10,000 people
The largest city in Scotland, the 4th largest in the UK, and a major centre for culture and Victorian architecture, Glasgow is among the top destinations for young professionals and Scottish businesses alike.
Its place as the 1990 City of Culture secured that reputation, and with key attractions like the OVO Hydro, Ibrox, Celtic Park, and a vast array of theatres, it's no surprise it's a magnet for tourists, too.
However, it's with this influx of residents and visitors that crime rates climb, placing the City of Glasgow 2nd on our list with 1,228 crimes per 10,000 people.
With the second highest rate of violent crime, and the highest figures on those prosecuted for drug-related offences and antisocial behaviour, the Glasgow city area holds a precarious balance between a cultural hub, and a dangerous area of Scotland.
#1 – Dundee City – 1,270 crimes per 10,000 people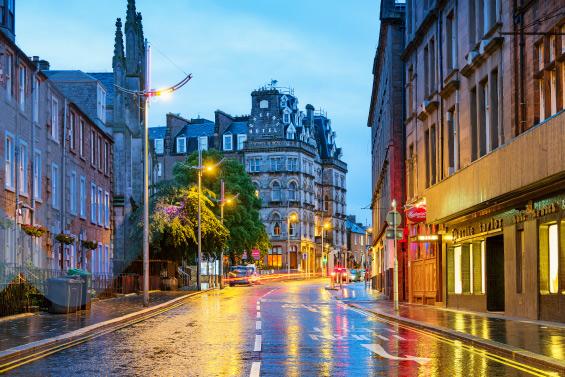 The top of our list by a considerable margin is the City of Dundee, with 1,270 crimes per 10,000 people. Of course, while these statistics paint a grim picture, they're only half the story when it comes to the city and region in question.
Nicknamed the "City of Discovery", Dundee began its life as a seafaring town, and quickly became a beacon for trade and merchanting in Scotland. While it's since been superseded by the larger cities of Edinburgh and Glasgow, the planned waterfront developments are poised to catapult Dundee back into the public eye.
However, as the most dangerous area in Scotland, Dundee's crime statistics need a major overhaul, with the city ranking first in violent crime, theft, and sexual assault.
How Can My Business Respond To These Statistics?
While crime statistics often make for an uncomfortable read for business owners, they also serve to highlight the need for effective and robust Scotland security solutions. Plus, with the higher crime rates often falling in centres of commerce and business, there's a need for immediate and comprehensive action.
With the complete suite of services we offer here at Churchill, you're not only opting for a provider that falls within the top 1% country-wide, you're putting the safety and security of your business and livelihood at the forefront of your mind.
Tailormade CCTV Packages
CCTV is often what many think of when it comes to securing their business, and it's something we take very seriously at Churchill. It's one of our signature offerings, and as part of our industry-leading service, we're able to offer fully bespoke solutions for your business and its needs.
Whether you're seeking a full overhaul of your current systems, or you're looking to adopt cutting-edge technology, our expertly trained operatives will fully analyse your needs, and create a custom-built package that's right for you and your business.
Plus, you'll have complete peace of mind that your business is safe around the clock, with our control centre that's manned 24 hours a day, 7 days a week, 365 days a year.
Complete Event Security
As home to some of the largest and most popular events across the UK calendar, sourcing the right Scottish event security is paramount, especially if you've got a large corporate event to cover.
At Churchill, we've honed an expert service that takes into account the size of your event, the amount of guests you're expecting, and the nature of your event, to create a solution that not only ensures the safety and security of your guests, but that works alongside your budget and needs, too.
Expert On-Site Security
We're firm believers that visual deterrents are one of the most effective forms of security, which is why we're the frontrunners in providing highly accredited and train on-site security guards. As one of the premier Scotland security companies, all of guards undergo a rigorous vetting and training procedure to ensure they're able to accommodate your business' needs.
Whether you're looking for Scottish security guards for valuable corporate assets and buildings, or guards to operate gates and entry points to your site, we're experts in providing a bespoke solution that's specific to your needs.
Rapid Response To Alarms
There's nothing worse than that sinking feeling when you realise the alarm is going off at your business or premises. We understand that as well as anyone, and with our swift and effective alarm response service, we're on-hand to provide the appropriate action in any scenario.
As one of the pioneering Scotland security companies, we'll liaise with any relevant emergency services, and even perform minor repairs to ensure your business doesn't grind to a halt. We're also one of very few Scottish security firms that are able to hold a set of keys securely off-site, and provide you with secure access at any time you need it.
Churchill Support Services are the industry leaders in providing tailor-made, exceptional quality security packages to a wide range of businesses and industries. We're in the Top 1% of all SIA-Approved security companies, and with our nationwide service, you're guaranteed a service that's tailored to both you and your business.
Whether you're seeking bespoke CCTV systems for a large corporate facility, or you're looking to provide expertly-trained security for an event, get in touch with a member of our knowledgeable team today.